Petynka
In the Střešovice district of Prague, the Petynka swimming pool is very popular with residents. There is a cozy beach on the lawn here, the water in the pool is always clean and warm (you can come to swim even in cooler weather). The complex works from the beginning of May to the end of September.
The 50-meter pool underwent major repairs a couple of years ago. On the territory near the open-air pool new benches and places for relaxation appeared, a paddling pool near the water slide, changing rooms and showers were repaired.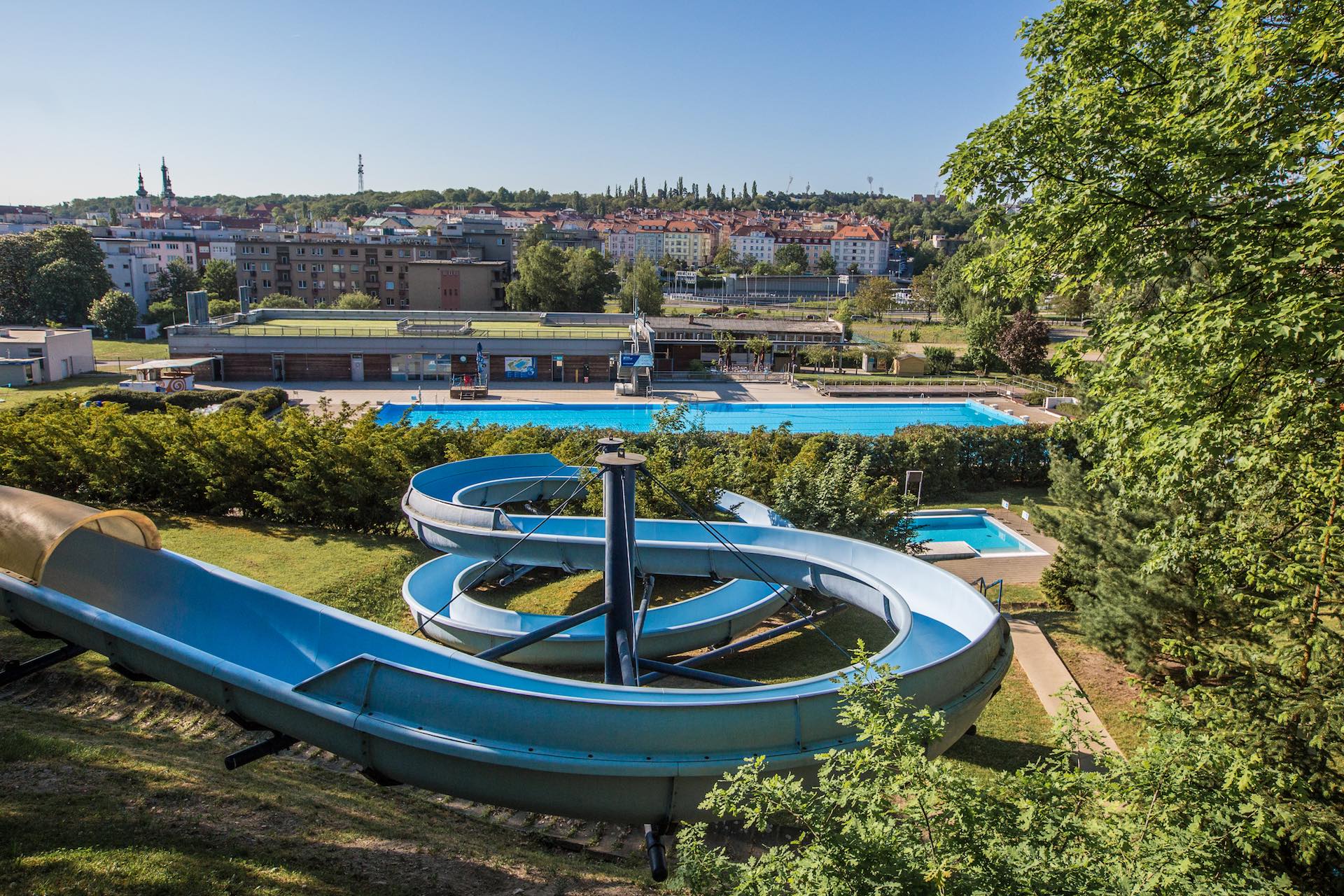 Opening hours: daily from 07:00 till 21:00
Admission: 180 CZK adults, 250 CZK adults plus children
Address: Otevřená 1072/4, 169 00 Praha 6
Swimming Pool in Divoka Šarka U Veselíka
In the valley Divoka Šárka, surrounded by high cliffs, the Šarecký brook flows. It will lead you directly to the swimming pool. The complex has two pools, a paddling pool, a small slide, trampolines, ping pong tables and a volleyball court. 
The cost is up to 150 CZK for an adult.
Podolí Aquatic Stadium
Podolí Water Stadium in Prague 4 is a huge sports complex located in the south of the Czech capital on the right bank of the Vltava River. 
There is one 50 m long indoor pool and two open-air pools 50 and 33 m long. There are 8 swimming lanes in both 50 m long pools. Visitors can have fun with the big slide, and children will love splashing around in the paddling pool. If you cannot imagine your rest without a sauna, they are here too.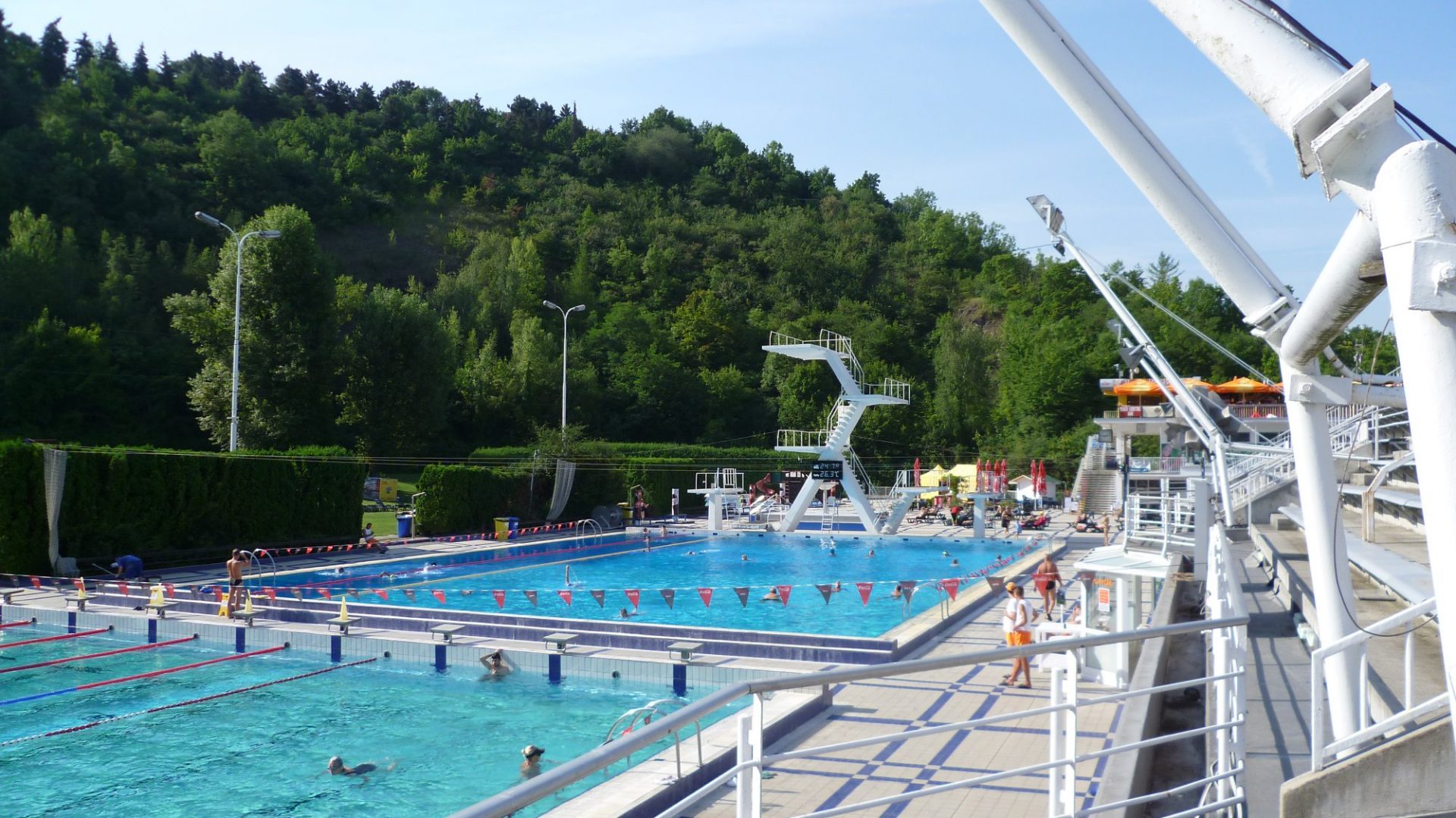 Opening hours: 06:00 – 21:45
Entrance: from 180 CZK for adults and from 140 CZK for children, depends on the time of the visit
Address: Podolská 74, Prague 4
Panoramic View Pools
If you happen to experience bad weather in the summer but still feel like swimming, there are two places which are a little bit different from the usual pools. This is because they are located on the floors of the hotels, which offer a beautiful view of Prague.
They are less budget-friendly, but the special view you get is worth it. We found two places where you can visit such a pool. The first one is at Corinthia Hotel, which is close to Vysehrad metro station, and also Panorama Hotel, close to Pankrác station.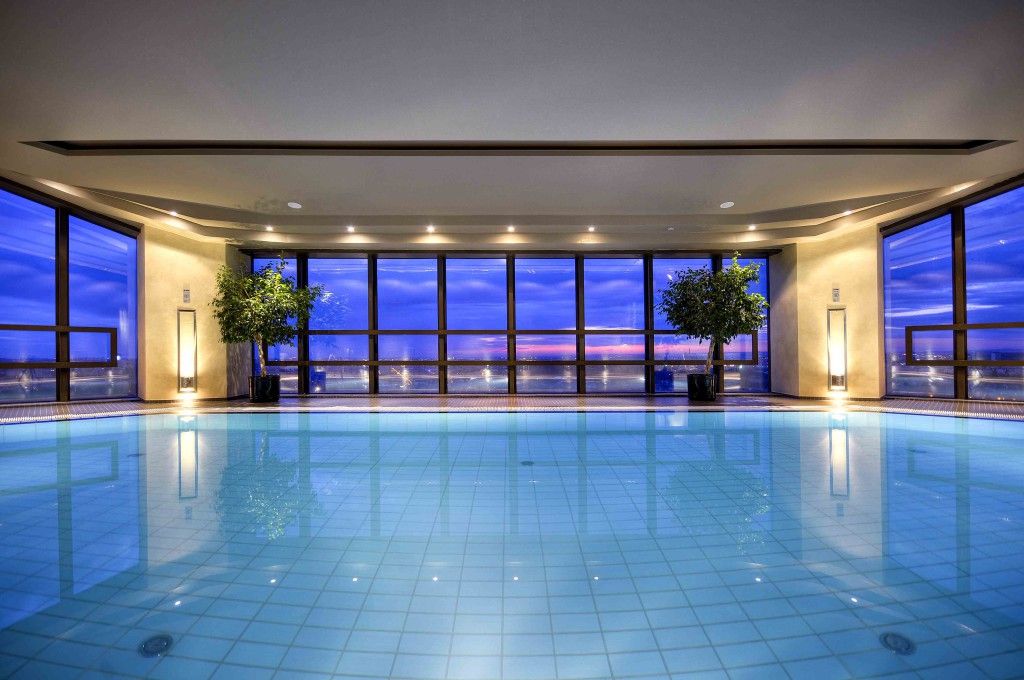 Aquapalace Prague
A giant water park in Prague with the longest water slide in the Czech Republic is open all year round. Plus – a lot of water rides for every taste, minus – expensive tickets and overcrowding, even in less favorable weather.
It is the largest water park in Central Europe with water rides and saunas, a spa center and a fitness center. Children will especially love the themed halls – the Adventure Palace and the Treasure Palace. 
The first one provides a massive dose of adrenaline: there are 8 slides up to 140 meters long and 3 extreme slides. For the bravest there is a Spacebowl attraction: a strong current of water will carry the swimmers to a distance of 100 m.
The second hall has a fairy-tale atmosphere, the central place is occupied by the wreckage of a pirate ship. Every night there is a water laser show with 3D effects. In general, the water park has so many attractions and services that it would need a separate review. You can find out more about them on the official website or on site.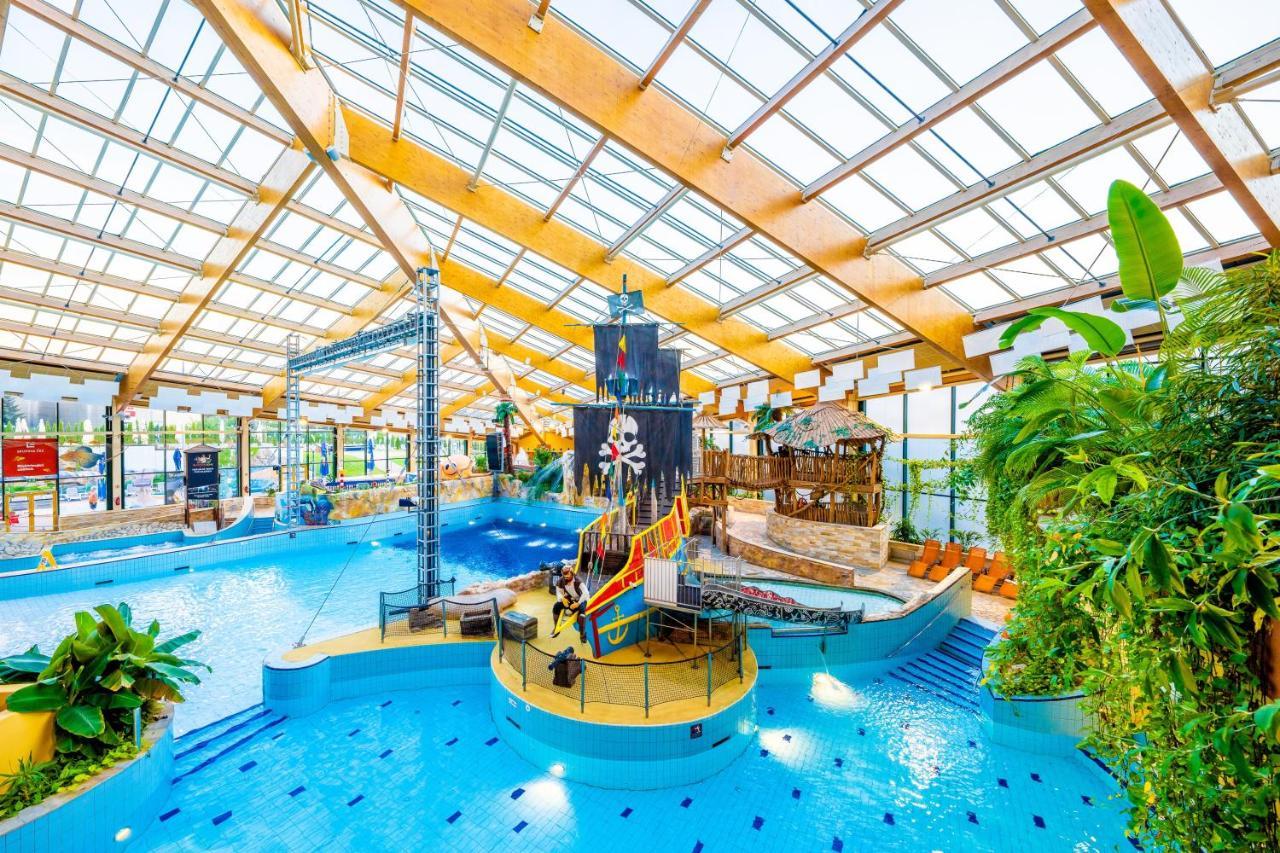 Opening hours: on weekdays from 10:00 to 22:00, on weekends from 09:00 to 22:00
Admission: 999 CZK for adults and 799 CZK for children all day
Address: Pražská 138, Čestlice, Praha – východ
Aquadream
Aquadream is another Prague water park with indoor and outdoor areas. The scale and prices are more modest. Accommodates only 220 visitors.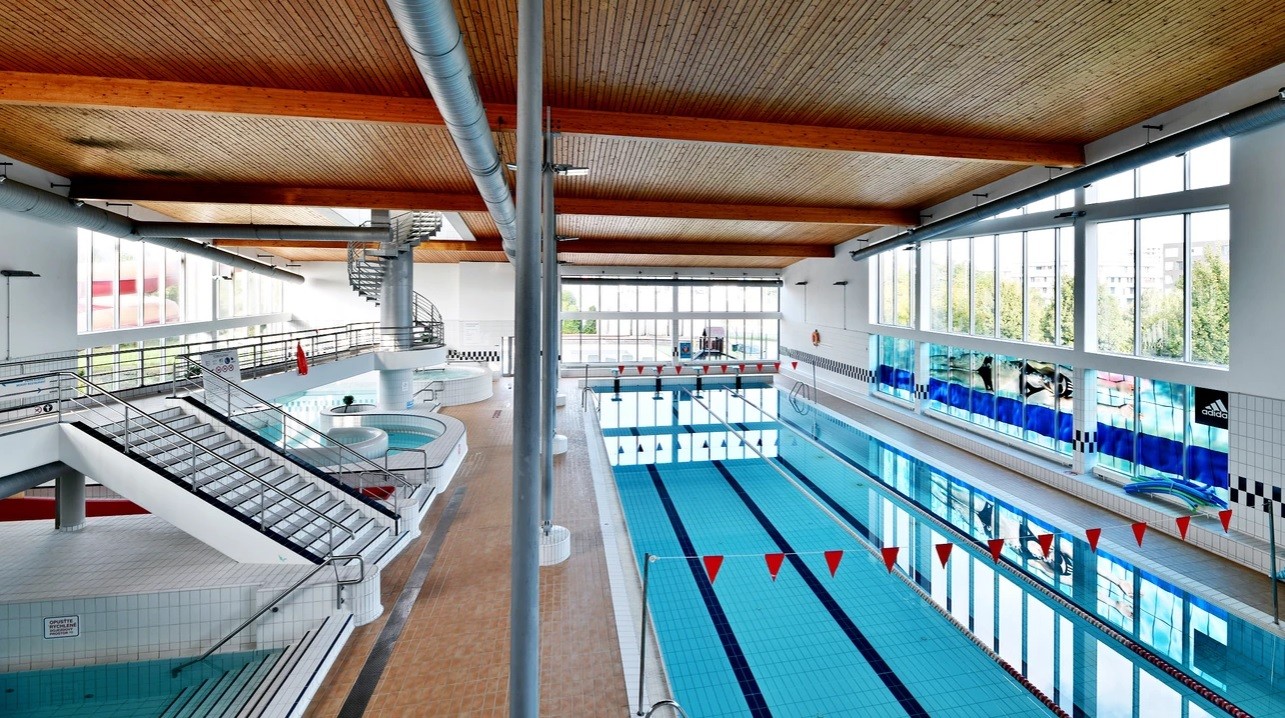 Opening hours: Monday 09:00 – 22:00, Friday 6:00 – 22:00, weekend 8:00.
Admission: adults 129 CZK for 60 minutes and 339 CZK for the day, children 89 and 229 CZK respectively
Address: K Barrandovu, 8 Praha 5